Do you remember a time when your (language) training consisted solely of classroom lessons with your trainer?

Well, we're here to tell you: those days are gone.

Not that we mean to completely wipe face-to-face (or classroom) lessons with a trainer off the map. On the contrary! They remain a valuable part of training.

But today, we support and enrich those classroom, offline lessons with modern - often online - learning technologies. Webinars, e-learning, online classes, e-quizzes, learning apps, virtual reality and a host of other online tools.

We call it blended learning, the mix between online and offline.

You certainly figured out that we are convinced of blended learning.

But we would also like to win you over.
What are the benefits of blended learning?
1. Preparation and repetition of each lesson.
Making your language training more efficient. That's what we want to achieve at BLCC with blended learning.

Modern learning technologies such as e-learning, e-quizzes, ... are there to support you. So that your language trainer can focus 100% on conversation, communication and real-life examples during the lessons.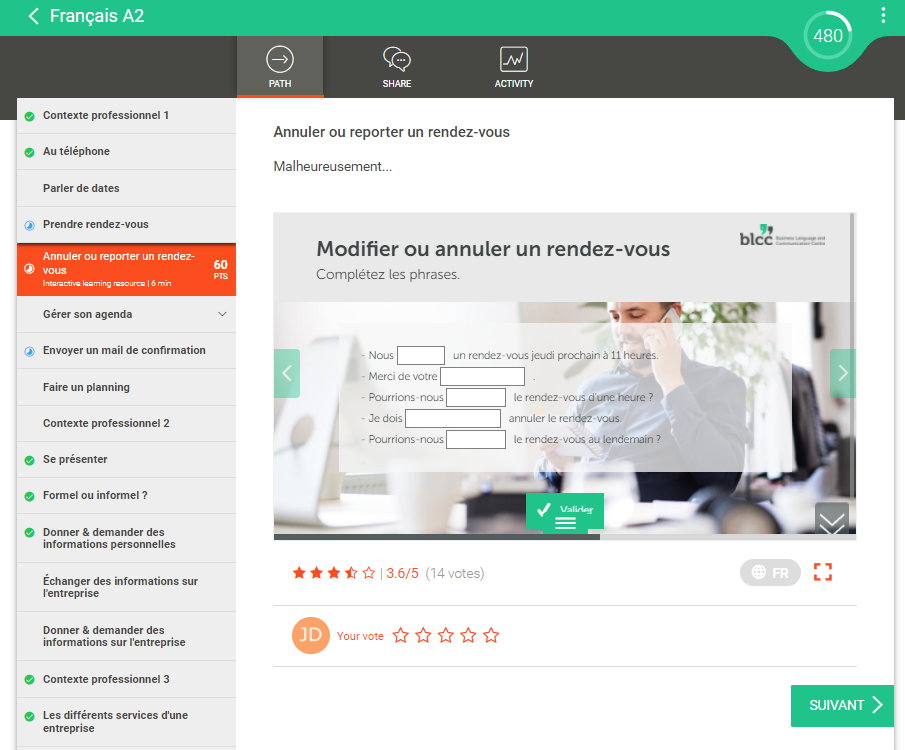 But how do you achieve this?

By using e-learning as preparation before and repetition after each lesson.

Imagine for a moment. Your French language coach would like to teach you the subjonctif. But your coach would rather not spend 2 hours of his valuable lesson time going through that heavy chunk of grammar. Because it's not exactly fun. Necessary, though!

That's why the blended mix is interesting. Your coach pours the theory of grammar into e-learning modules so that you, the student, go through them independently in preparation for the lesson.

During the contact moments with your trainer, you then focus fully on putting the theory into practice. You mimic phone calls, write realistic e-mails, share your opinion in a fictitious meeting. You pay specific attention to real sentences, which you also use in your real job. With subjonctif, of course!

Because you have already gone through some theory, you also ask targeted questions. In other words, we push our course members into a very active role thanks to blended learning.

At the end of the lesson, you head towards the e-learning platform again to do exercises on that subjonctif: on its use and the different conjugations.

Repetition, repetition, repetition, until you know them by heart!
2. Time for feedback
Besides more time in class for practical exercises, e-learning and blended learning also offers more time for another important component: feedback.

Those who do e-learning exercises naturally receive immediate input on their answers. Which ones are correct? Which ones are wrong? Well-developed e-learning also offers the opportunity to provide additional explanations about why an answer was wrong.


But it goes even further than that! On top of that automatically generated feedback, you can also receive personalised feedback from your trainer via e-learning.

And since your trainer has to explain less theory in class sessions, he has more space there for feedback on your conversations and practical exercises.
3. Social learning = learning from each other
In a blended learning path, by the way, you don't only get feedback from an e-learning platform or from your trainer. You also get feedback from your colleagues and fellow course members.

Do you have a question? Via forums on your e-learning platform, you throw your question into the group and receive relevant answers from your fellow trainees.

With open questions, you also see the contributions of other trainees. This way, you also create a bond outside the group sessions.

Curious about how others learn or which learning apps they use? Your coach launches a poll. Or maybe you share your e-mail in French and your colleagues take a critical look at it? You learn a lot from that too!

In short, social learning is an important aspect of your learning process. Because people sometimes learn at least as much from each other as from their coach. Even in online courses!
4.

The trainee is the key, even in group training!
The trainee is the key focus at BLCC. And every (language) training course is fully tailor-made for each trainee.

Why?

Simply because everyone has a different learning preference. One prefers to learn with videos; another captures better from text; a third memorises material best by listening to a teacher.

So why make e-learning the same for every learner?

Everyone learns in their own way. And everyone also has their own priorities. Some need to make phone calls in French at work; others hardly ever pick up the phone. With e-learning, you do not have to go through all the modules every time. You choose the modules that are most interesting and relevant to you. What you do not need, you simply skip.

Moreover, blended training is ideal for groups. Let us take a group language course as an example. Before the start of the course, we determine everyone's level. And we put together groups based on those levels.

Nevertheless, nobody has the same knowledge. While some are good at grammar, others are better at vocabulary. One is already fluent in writing, while the other is especially strong orally. All at the same language level!

Blended learning is the method to bring differentiation within your group training. Both in terms of content and level.

The weaker students catch up in their own time by going through the e-learning again. And repeat as much as they need.

Possibly stronger trainees build an advantage over others in the group. By putting them to work in more difficult e-learning modules, the trainer spends time on those who need extra guidance and support.

Adaptive learning paths ensure that you see exactly the information you need. And that is useful to you! Do you go through the exercises on BLCC's e-learning platform? Then you will see your score at the end of the module. Based on your achieved score, you will receive a personal recommendation: feel free to move on to the next module. Or your score is not quite right; try again!
5. Less time, lower costs and still higher returns!
Admittedly, setting up e-learning for your business may involve high start-up costs. But you'll win those back in no time because of the many benefits.

Once again, language training makes our case.

Imagine for a moment a classic language training course. For 40 classroom hours, you go to work with your language trainer. 40 hours in which your trainer provides both theory and application of vocabulary, grammar and communicative themes.

Does your language trainer really add value if you conjugate verbs via drill exercises?

Not the most optimal use of time, is it?

In a blended learning programme, you adapt the learning format to the learning objective.

Explaining a grammatical point? Opt for e-learning. Dramatise vocabulary and key phrases? This too can be done perfectly well via e-learning modules. Best done on your own, at your own pace. Applying your theory in practice and thus honing your skills? Here, the lesson with your teacher is ideal.

That way, you make the most of your lesson time with your coach. You deploy your trainer or coach where he really adds value. That way, you reduce the total hours of classroom training.

A win-win! Because less class time also means lower costs. You pay fewer training hours, need to book fewer classrooms, incur fewer travel expenses, etc.

But meanwhile, all trainees do get to work individually on the platform.

So compared to a classroom course, more is learned! Let's do the maths. We reduce a course of 40 lessons to one of 30 lessons. Because part of the learning shifts to the e-learning platform. But if there are 6 trainees working for 10 hours each, before and after the sessions, that means 60 hours of learning time in addition to the 30 hours in group! So 90 hours of learning time for a lower price!

So there is no doubt that blended learning is associated with higher returns.
6. Make progress and results transparent.
To measure is to know!

This is exactly what makes a blended learning path with e-learning so interesting for your company.

Because anyone investing in (language) training naturally wants to know the return on investment. Not only financially, as we said above. But also in terms of progression.

Especially the online part of the learning process offers various possibilities to closely monitor the learning process and gain insight into learning results.

Take BLCC's e-learning platform for instance.

At the push of a button, you can see how many and which trainees are actively learning, which courses are most popular and which learning modules score best.
But your trainees also easily see how well they are doing. And how much progress they are making! And which modules they complete.

By adding a test at the end of the learning module, you quickly check how well they have memorised the key phrases. This way we make the learning progression explicit. Which is much more difficult in a purely classical approach.
7. It's just fun too 😉
Save the best for last. Because we have one more argument to convince you to opt for blended learning.

It's just fun too 😉

A blended learning path offers more variety. One day you attend a classroom lesson with a teacher and fellow students. The next day, you will work independently on the e-learning platform.

But there is also variation within the online part of your blended training. An e-learning platform provides variety. Videos, drag-and-drop exercises, fill-in-the-blanks exercises, open questions to answer, polls... the options are endless!

Many e-learning platforms and online learning tools also feature gamification. Game modes are added to your online learning journey.

The more exercises you complete, the more you earn on the learning platform: points, badges, certificates, ... Who doesn't want to see the badge of the 'passionate learner' appear?

Are you following a group training course? Then you can play those trophies off against your colleagues too. Because who doesn't like a bit of healthy mutual competition? 😉

Fun guaranteed!

This way, as a learner, you always stay on top of things. Your involvement increases, which also increases your motivation and commitment. All ingredients for successful training.
What are the disadvantages of blended learning?

OK, first things first.

We find the word disadvantages less appropriate in this context. Disadvantages imply insurmountability. That you just have to take them in.

Pitfalls, on the other hand, indicate a point of interest in e-learning and blended learning. Which, moreover, you can remedy!
1. Integrate e-learning into your blended learning path.
With blended learning, you get more out of your classical and classroom lessons. They reinforce each other.

That was probably already clear to you in the first part of this article.

But make no mistake. They are not the same in any respect. And therefore also require a different approach.

Through blended learning, you can enhance the learning effect of training. But you will only succeed if you thoroughly integrate the e-learning modules into the classroom sessions.

Then and only then, e-learning and classroom lessons reinforce each other. In concrete terms? There are plenty of best practices for successfully integrating e-learning. We are happy to share a few tips we give to our trainers:
✔ Explain how you will use the e-learning platform in the training. And also why: the learning time with the trainer is quite limitied. the learning time with the trainer is quite limited. And is therefore insufficient to achieve the often ambitious objectives!
✔ Provide content intergration: Imagine for a moment. You are working on telephoning in German via e-learning. But during the next classroom lesson, you can't show off your new skills in a simulation exercise. Pity, right? So organise activities in your session that are in line with the e-learning task and create a success experience for the learner!
✔ Dare to use the e-learning platform as a tool during your session. You increase the engagement of the learner, who gains confidence to work on the platform even between sessions.
✔ Define e-learning tasks as concretely as possible and monitor to what extent learners come to your session prepared. Don't consider e-learning as optional!
And we could formulate many other tips like this. The bottom line is that learners understand that the e-learning platform is not an 'incidental thing' within the training, where they can go if there is some time left.

No, e-learning is a full-fledged component within the training!
2.

Lack of motivation and time
But you don't have to attribute pitfalls only to the trainer of your learning programme. Learners themselves also sometimes experience obstacles.

Like their motivation.

Let us sketch the situation for you. It is New Year's Eve. You have just spent a whole week drinking wine à volonté, eating turkey and feasting on a Christmas stump. Delicious! But time for the coming year. Those extra kilos, they must come off again. Fitness becomes your New Year's resolution.

Will you work out at home by yourself? Or opt for a group class together with three friends and an trainer?

The latter is guaranteed to be more successful. Because the latter, you'll keep it up longer.

Under the peer pressure of your peers or the watchful eye of your trainer.

The same goes for your e-learning and blended learning programme.

We know from experience that getting trainees on the e-learning platform remains a difficult job. And keeping them there!

Many start with good intentions, but drop out after a few online sessions.

We want to avoid that! And we make every effort to do so. For example, the BLCC e-learning platform is equipped with several tricks to motivate our students to boost their language skills on the platform.

We have already explained many of them above: varied exercises, open questions, interactive video modules, gamification with badges, points and certificates, etc.

On top of that, we also regularly send emails to e-learners to motivate them to get on the platform. See how much progress you already made! Did you know you can earn badges with each activity? And discover the latest modules to boost your language skills! Often, we then get replies from our learners to these emails. The message has worked and they go back to work because they realise it is important!
We do everything we can to make your e- and blended learning a success!
3. Basic knowledge of technology
E-learning, webinars, online quizzes, virtual reality... all these online learning technologies are an integral part of your blended learning path.

A basic knowledge of technology is therefore a must. Unfortunately, this is not obvious for every learner.

Age, education level, employment status may have to do with it. But we have to be careful with prejudice.

Of course, there are also older generations who can handle a computer. And our own experience shows that workers in Dutch language training on the shop floor score better on e-learning than white-collar workers. So you see!

Be aware that not everyone jumps on that technology train at the same speed. Spend time and attention to assist those who are less tech-savvy.

But remember, blended learning goes hand in hand with social learning. Let learners help each other. Even when it comes to using that technology!
Conclusion
E-learning is not just an addition to your learning path with your trainer, it is a full-fledged part of your training path. By including e-learning and other modern learning technologies in your blended learning pathway, you get the most out of your training. You combine the best of both to create the ultimate learning path.

They don't just enrich your training. No, they also make your training more efficient. Which means you need less teaching time as a course and therefore get results faster.

Convinced of the blended learning mix? And looking for a language course? Knock on our door! We integrate all these online tools within your language course. For maximum efficiency!
Want to find out how to
create an e-learning course
as a company?