When lockdown hit, we all saw and heard the awkward stories of online meetings. Didn't we? 😉
Maybe you even had it happening to yourself once.
One of your colleagues holding an online meeting in his pajamas; getting up to get more coffee without realizing he's not professionally dressed. Being late to an online meeting because you could not find your Zoom link for the life of you, let alone the pass code to the meeting. Sentences such as "You're still on mute", "Your connection was bad there for a minute, could you repeat that?" and "Can you guys hear me?" have graciously been added to our daily repertoire.
We're here to help you prevent such mishaps in the future. We are giving our trainers 7 tips on how to teach online and remotely.
Tip 1: Take care of your working space. Your home office should be as professional as your 'work' office.
For many of us, working from home means our personal and professional lives intertwine, and we've all seen the stories and memes on the internet of what happens if you're not careful.
A CEO not wearing trousers during an important meeting, exposing his underwear as he went to get some coffee. A wife yelling at a husband during a client call because he did not wash the dishes. Children fighting over some toys in the background.
Have you found yourself in a similar situation? Here are some tips on how to make your home office as professional as your work office.
Your professional working space.
In general, we recommend you keep a dedicated office space. No working at the kitchen table or in the living room – this will optimize your professionalism!
However, professional does not necessarily mean white walls and boring backgrounds. Your home office can still be cozy and totally you. It can still be personal, but try not to overdo it. Cats running on keyboards or dogs barking in the background are a no-go.
Have an online meeting scheduled or a video call? Keep in mind what you're displaying in the background. Drying laundry? Not okay! A nice library, on the other hand? Very much okay. The question here, really, is: to blur or not to blur?
When you blur your background, you can hide any laundry drying in the background. On the other hand, it can also make you look slightly unnatural or even robotic. Plus, it's sometimes also nice to catch a glimpse of someone's living room, home office or kitchen. It immediately establishes a connection on a personal level and can even spark conversation.
So, as a rule, we advise the following: do you want to hide something? Go for a blurry background! If not, consider giving your trainees a little peak into your home and share some of your personal space with them.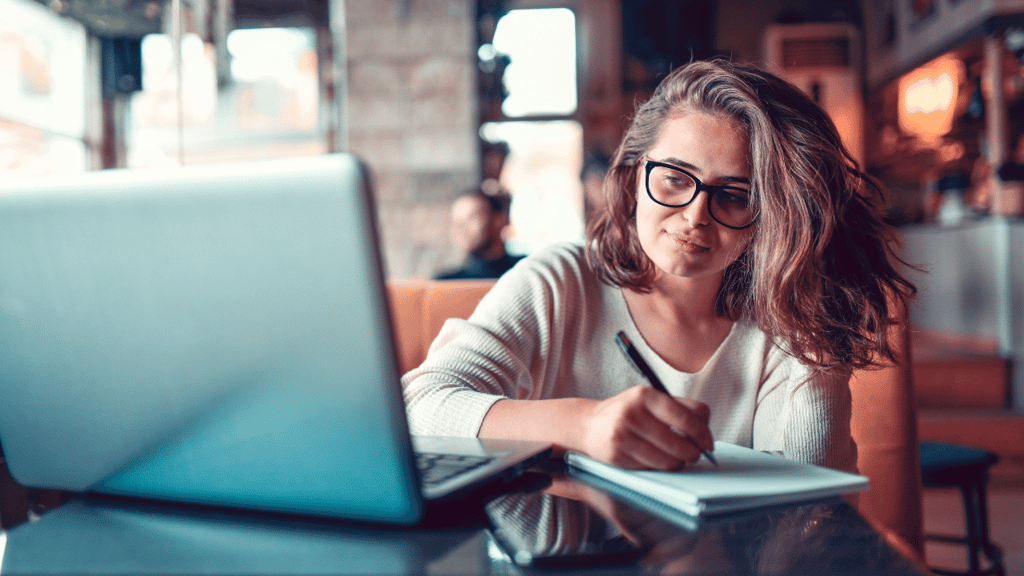 The professional you.
Not only your working space needs to be professional. What about you? Do you sometimes start work in your pajamas? Or do you work in your stay-at-home-nobody-needs-to-see-me outfit?
Well, we're here to say … stop it!
Wearing the clothes you would normally wear to go out or to the office, will allow you to get into the right mindset for work. You will definitely feel more confident. Plus, you trick your mind and body into thinking you're actually going to work, which means your mind will also be in 'work mode' rather than 'sweatpants chill mode'. Dress for success!
Much like going to the office, your home office requires routine. Maintain regular working hours, set a schedule and stick to it. Most of the time, at least!
Working at home with the rest of your family? Also create a structure for them, and set up ground rules about when you can be disturbed, and more importantly, when you cannot.
Tip 2: Sitting profession? Try to move around during the day.
As a teacher, you might not be used to a sitting profession, are you? You used to move around in the classroom between your students to check up on them. You used to go from one client to the other, and back home.
Now everything's changed. As most of your courses are now taught online and virtually, you sit at your desk most of the day.
It's unavoidable.
That's why it's important to invest in a comfortable chair. You'd be surprised how many fellow teachers told us about this. This is the number 1 remote-working-tip from your colleagues! Also make sure your desk is set up ergonomically. Tips on how to do this, you'll find here.
But don't let your sitting profession keep you from moving around!
Have longer sessions scheduled? Try to take a break, but do not spend your break on your laptop or sitting down. Do something active like walking your dog, grocery shopping or hanging up your laundry. Anything! As long as you're not sitting down. Your body needs movement and blood circulation in order to function properly.
But you do not necessarily have to move around your house alone. Why not include some movement in your online courses?
Depending on the group dynamics of your training, it is possible to do some activities with your students. We've seen teachers do some stretching with trainees. Or trainers who ask students if anyone is into yoga, for example, and if they would be willing to share some exercises with the group. This works wonders for your group dynamics. Any initial skepticism will be overcome very quickly!
It's at least worth a try, right?
Tip 3: Your

internet connection

is vital.
We've all been there. We've all tried to hold or take part in an online meeting with an unstable internet connection. The video keeps freezing. Entire sentences go unheard. Somebody gets kicked out of the meeting involuntarily.
Your internet connection is vital during any online meeting. The same holds true for your virtual classes and online courses.
Even in this day and age, faulty internet connections can lead to unnecessary stress for both teachers and students. Check your internet connection before the start of your sessions. It is easy: just type 'check internet speed' on Google. Run the speed test and achieve peace of mind.
If WiFi is your only option, try to locate the best WiFi spots in your house. Or set up your home office close to the router. But for your information, cable internet connection is still more stable and secure than WiFi connections.
Why not avoid the frustration altogether?
Tip 4: Also vital is your

connection with your trainees

.
Do you think your internet connection is the most important thing during an online course? Then you might be wrong!
It's not just internet connection that's vital, also the personal connection with your trainees is of the utmost importance for the success of your training.
Did you know that the best way to boost your connection to your learners is by doing activities with them? They establish a sense of comfort and develop a community of learners. That's why quizzes are proven to be a great motivator during online lessons. Our tips? Try Quizlet or Kahoot for an extra element of fun in your virtual class. BLCC can set you up with a free account. There's a lot of ready-made content available for you to choose from. So it reduces preparation work and enhances variation!
Be supportive with learners, to make them feel valued and safe. Sure, this takes more effort in a virtual class where there is no face-to-face interaction.
High tech can go hand in hand with high touch perfectly!
Tip 5:

Structuring

your online lessons is key.
Admittedly, it might be harder for some learners to stay focused during an online class.
Have you noticed the same? E-mails flood their mailbox, notifications ping somewhere in the background, and secretly, they're already thinking about the work that awaits them by the time they finish this lesson.
That's why it's important to structure your online meeting. Also, make sure your trainees are aware of the structure from the get-go so they know what's coming. Keep them engaged and keep their attention on you.
A structured online course is easier to follow in general, but even more so in a foreign language.
You can structure your online class with a course or lesson outline.
Tip 6: Mix it up.

Variation

makes sure your students don't lose interest.
Another trick to keep students from losing interest is variation in your course.
Mix it up!
In activities, in media, in skills (listening, speaking, writing, reading). Research says that to maintain optimal concentration during an online class, you should switch out activities every 10 to 15 minutes.
In addition, you should allow your learners to play an active role during the lesson. Let them take the lead. Let them pick which topic to tackle next. Let them speak for themselves.
Some of our experienced teachers do a 'temperature check' before each session. They check the mood of the students first, to decide how 'heavy' the session can be for them. Do we start a new grammar topic today that requires a lot of attention? Or do we play a game about previously tackled topics? If you do play a game, why not use an online timer? It adds an element of fun and competition that most people like.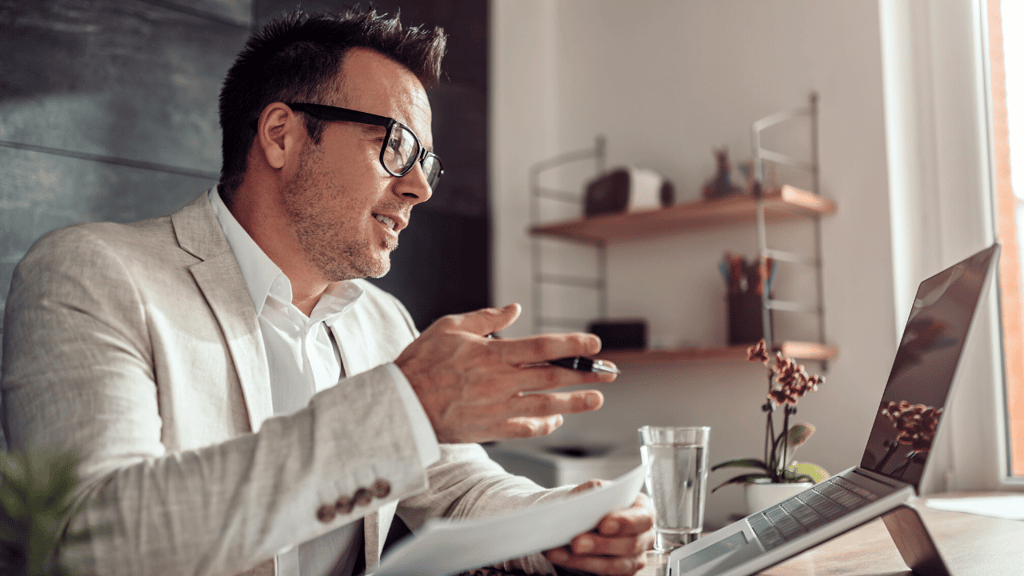 After all, not everyone is in the best learning mood all of the time. And that's okay!
Tip 7: Variation, yes, but don't

overdo

it.
Okay, here we might contradict ourselves. Variation is indeed very important during an online class.
However …
Don't try to do too much either.
While you might be comfortable with online teaching, your students might not be as used to it as you are. Doing too much at a time might just overwhelm them and eventually demotivate them.
Give your students the time to get used to the system, to online teaching and to each other, in the case of group courses.
Gradually intensify the use of different tools and different exercises.
Before you know it, you'll be sharing screens, looking things up online, checking out and discussing videos, doing group assignments in break-out rooms, doing e-learning and filling out online quizzes.
BLCC supports you all the way!
BLCC supports you all the way!
As we at BLCC strongly believe that teaching remotely is here to stay. We want to 'put our money where our mouth is' and fully support our teachers in becoming the best virtual teachers they can be!
Would you like to discover or explore a new online tool? Do you struggle with getting certain settings right? Are you having trouble establishing connections with your trainees? Need any advice on the best headset to buy? Want more tips on how to teach remotely via Zoom, MS Teams or other? Or on how to integrate our online tools like Kahoot, Quizlet and the e-learning platform into your online lessons?
We've got you!
We organize regular workshops on specific topics around virtual teaching. Apart from that, we also offer ad hoc support where needed. Why not attend our workshop for beginners, intermediate users or join our expert academy?
Get in touch with our colleagues for our workshops calendar.