Language training is so much more than simply having lessons with your trainer.

Blended learning is omnipresent in the L&D world.

This means that we support and enrich your classical language training with modern, often online, learning technologies. Think webinars, online lessons, e-quizzes, videos, learning apps, and, last but not least, e-learning.

Only with a blended learning path will you get the maximum return from your training.

And that requires top technology and top content. We found both at our e-learning partner CrossKnowledge.
Who is CrossKnowledge? And what brought BLCC and Crossknowledge together?
January 2019.
BLCC launched the brand new e-learning platform for all its language training courses.

In doing so, we went for a radical overhaul of our content and our e-learning technology.

Since CrossKnowledge's vision and values fit perfectly with BLCC's strategic and content-related goals, the choice of CrossKnowledge as a partner was obvious.
Learning is a journey that should be meaningful for everyone.




That's why we're committed to delivering high impact




learning solutions that drive (soft) skills acquisition.




Crossknowledge
CrossKnowledge is a technology company, but with an equal focus on learning. It was this combination that appealed most to us.

A partner offering a user-friendly and innovative technology solution, while providing new insights and support in terms of didactics and online learning.

Furthermore, CrossKnowledge is a top player in the international L&D market, which translates into numerous awards and prizes every year!
Top technology & top content
To win L&D awards year after year, you need top technology & top content.

Thanks to our partnership with CrossKnowledge, we offer you an award-winning learning platform that puts a lot of emphasis on experience, usability and engagement.

It also gives your language trainer the chance to test your knowledge. Your trainer will determine which key phrases or grammar rules you have already mastered. And what it is better to repeat with you.
Top technology for user experience & learner engagement
When you learn a language independently on the e-learning platform, it is important for you as a learner to stay motivated.

Learner engagement is therefore an important element for making progress. And to keep making progress.

Technology can help you do just that!

The wide variety of learning content and exercise types keeps you engaged. On the e-learning platform, you go from videos with dialogues to fill-in-the-blank exercises, open questions, polls and even a chat function where you can talk to fellow learners and your language trainer.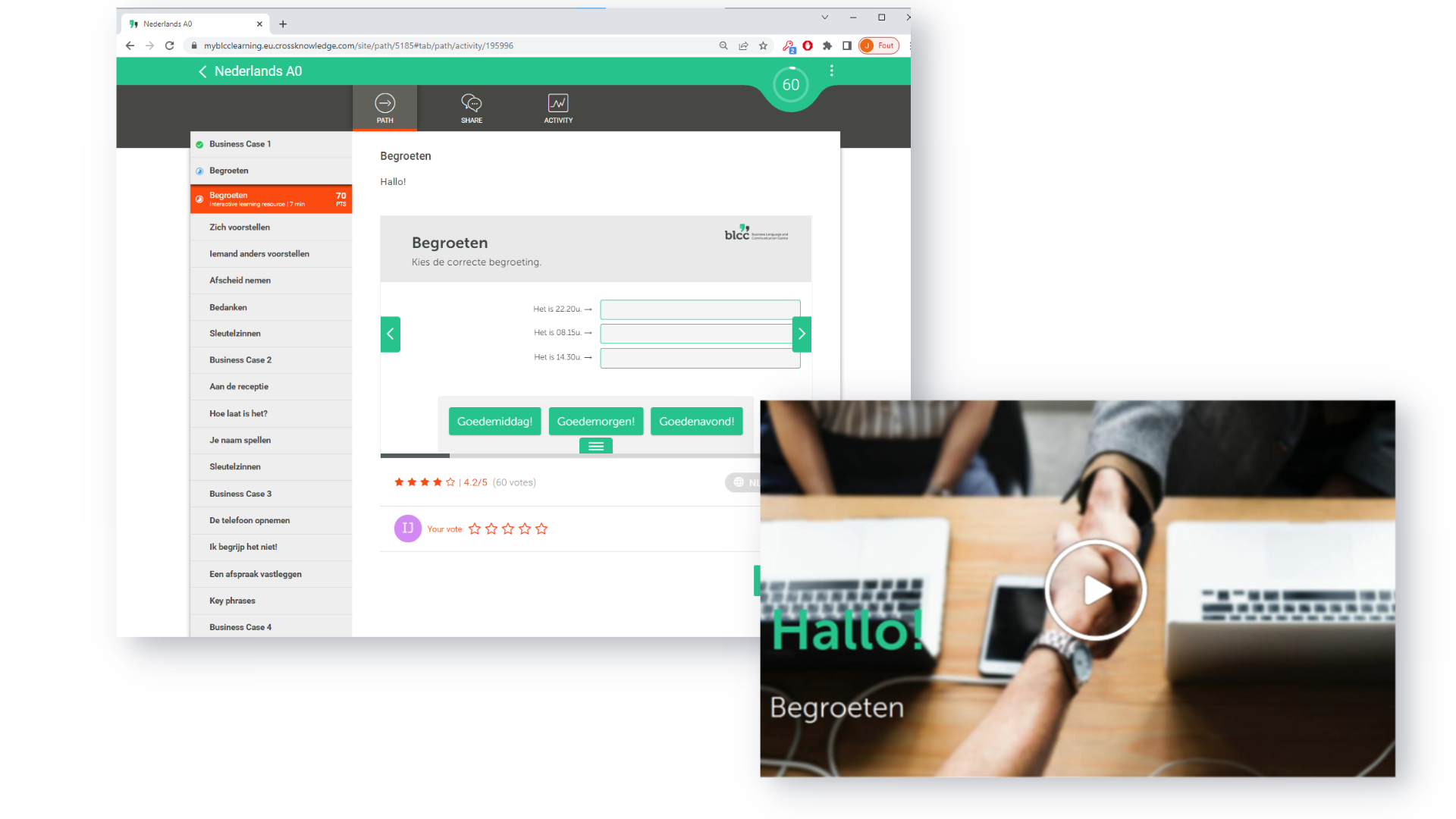 Moreover, each learning module contains a test at the end to repeat your knowledge and evaluate what you learned. After the test, you will be shown a recommendation based on your score via adaptive buttons.

Did you score well? Then you can move on to the next module. Do you still have some work to do? Then we recommend that you go through the module again!

By the way, did you know this? Everything you do with on the e-learning platform earns you points & badges. The platform cleverly uses gamification to motivate learners to learn. More than that, we make sure learning stays fun! At the end of each course, you receive a certificate of completion to share with your colleagues and your professional network. Ideal for your digital CV.

Curious about our e-learning platform? You can find more info here.

Top content: e-learning strengthens your language training
But it's not only your technology that matters with an online language course. You also need to score with your learning content.

All our learning content is based on authentic professional situations that every professional comes into contact with every day.
Making phone calls, e-mailing price proposals, giving presentations about your company, discussing figures and graphs, negotiating, holding meetings with clients, internal communication, ... All these topics are covered in our business cases in order to fit in as closely as possible with the daily reality of our course participants.

Moreover, we rarely see e-learning as a standalone tool that you can use completely independently.

No, we believe in an integrated, blended learning approach. Your language trainer knows the e-learning platform. And uses it skilfully to respond
during the lessons.

Was your lesson about telephoning? Then you can repeat all the words and key phrases on the platform. Will the next lesson be about e-mailing? Even then, you can prepare in advance for what is to come.

This allows you to spend valuable lesson time with your trainer in a smarter way. And focus together with your language trainer on your oral communication & feedback. After all, your trainer has little added value when you memorise vocabulary or drill grammar exercises.

Curious about more? Discover the benefits of e-learning for your language training here.
CLIL upside down: strengthening soft skills during your language training
The CLIL model (Content and Language Integrated Learning) may sound familiar to you: content and language integrated learning.

Where you learn a language by integrating content from other subjects into the course. Think of high school: history in French or economics in English. That way, you boost your language skills.

Well, our skill paths offer just the opposite: during your language training, we not only strengthen your language knowledge, but also your soft skills.

Just think of professional communication, leadership & management, customer service, negotiation, ...

All in the foreign language, of course!

The skill paths are ideal for those who already have an advanced language level and need that extra nuance. With the skill paths, you not only strengthen your soft skills.

You also expose yourself to the target language (exposure), giving your language level that extra boost it needs.
Would you also like to set up e-learning within your company? Or would you like to use our e-learning platform to boost your company's language skills?

Get in touch.