The COVID-19 pandemic has greatly reshaped our working reality, enforcing remote work and social distancing. While it was a tough transition, it did bring unexpected opportunities for learning and growth that we were able to grasp.

A lot of companies have identified the long-term benefits of these changes and continue to use them effectively. In a world where in person meetings and customer visits aren't as critical, many employees have found a calmer, more balanced work environment.

Roche, for one, was quick to see the potential in this shift. They capitalized on the situation by using the available time to its fullest extent. By turning these challenges into an opportunity for growth, Roche prioritized the training and development of their employees, marking a significant stride forward.
Investing in language training.
Roche decided to offer some 20 employees the chance to develop further. That includes language. Roche therefore enrolled several participants in individual virtual language training courses in Dutch, French or English. Thanks to the support of the Co-Valent training fund, which Roche can call on, the scientific staff are now updating their language skills.
Roche speaking.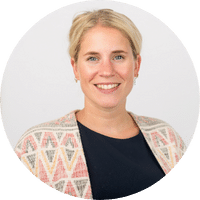 "Given the COVID-19 measures, we were looking for short language courses with quick start-up, which our people could follow from home. We learned about the virtual language training courses at BLCC, which we can call on thanks to our Co-Valent training fund. The ideal solution today: fast set-up, individual training tailored to the level and goals of our employees, and short 10-hour courses that they can extend. Moreover, people also further improve their language skills for 1 year thanks to BLCC's e-learning platform!"
Lieselot Van Damme
HR officer at Roche